Medical Career
Medical Careers
Medical Career
A
medical career
is a noble profession because you are able to help those who are ill. As medical science has improved through the years, it has opened a lot of opportunities for those who want to be part of this specialized field.
But for those that want to become doctors, you must first complete 4 years of undergraduate training, another 4 years of medical school, then 3 to 7 years working as an intern and as a resident. That is a long time and if you want to sub-specialize, that will be another 2 years.
You will have to do well even during your undergraduate years and do well in the MCAT or medical college admissions test because only a handful are accepted every year in the best medical colleges in the country.
If you got into medical school and are now working on getting your medical license, you will have to take the US medical licensing exam during your sophomore and senior year in school and during your internship. The exam itself is challenging but studies have shown that 90% of those who take it usually pass.
For those who find becoming a doctor too long, there are other options. You may pursue a
medical career
as a nurse. From working at the bottom, you may soon find yourself being in charge of a wing in a hospital or caring for patients in the privacy of their homes.
You may also become an emergency medical technician who is on call and assigned to rush to a scene should there be someone injured. These individuals are responsible for stabilizing the patient before he or she is brought to the hospital. Itís a hectic job given that the medical equipment inside the ambulance can only do so much.
Another job that is less stressful is being a pharmacist. All you have to do here is dispense the medication that is written on the prescription pad. You will also need to know how to explain to the patient how to use it. In some cases, the pharmacist may advise the doctor on the dosage and the side effects.
The only downside to this job is that you will have to work on holidays and weekends. If you donít feel happy working in such a place, try getting a job at a mental institution, nursing home, or neighborhood clinic.
Those that want to work in a lab, they can do so by being a laboratory technician. They are the ones that test samples given by the patient and also help doctors who are conducting scientific research. Given that we now live in the digital age, most of the testing is done using machines so all they have to do is wait for the results to come and out and analyze it.
You can also work as a medical assistant who just takes care of the paperwork and makes sure that the doctorís clinic is running smoothly.
The various positions mentioned are just some of the options you have if you are seriously considering a medical career. Though how much they earn varies, the important thing is that each person is part of something big as the doctor, the nurse, the technician, or the assistant contributes something to improve the lives of those who are sick.
Medical Careers Advanced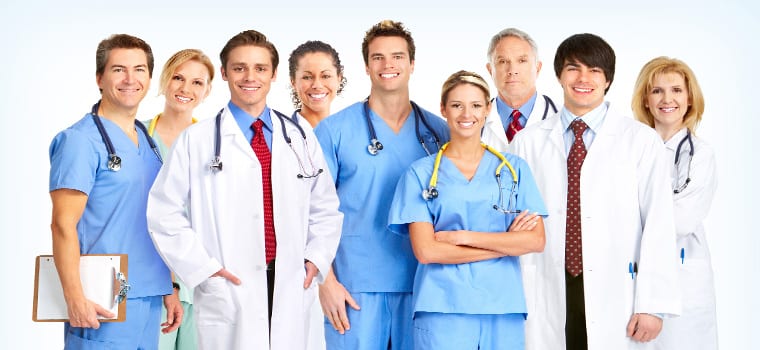 Medical Careers
People who choose to go for a
medical career
want to help people fight their illnesses. But since not everyone is qualified to be a doctor, there are other positions you can fill.
1. Some people have difficulty with their sense of hearing so they go and meet an audiologist. When a patient comes in, they try to find the source of the problem followed by treatment that may include cleaning the air canal, fitting and dispensing hearing aids, fitting and tuning cochlear implants, and Audiologic rehabilitation.
Those who want to become an audiologist will have to get a masterís degree in Audiology but this will soon change as the requirement will now be a clinical doctoral degree. They must also pass the national examination given the Educational Testing Service or ETS; perform 300 to 375 hours of supervised clinical experience and 9 months of postgraduate professional clinical experience.
2. Remember those people working in the drug store giving you medicine once you present a prescription? Those people behind the counter are called pharmacists. These individuals must first graduate from an accredited college and pass the state examination.
Having done so, they can already dispense drugs and even provide information about their proper usage. In some cases, they advise doctors and other health professionals on the dosages, interactions, selection, and side effects of medications.
The job of a pharmacist involves a lot of sacrifices as you have to work on holidays and weekends as drug stores are open 7 days a week and in some places, 24 hours a day. They may also find work in a mental institution, nursing home, or neighborhood clinic.
3. Another job that will enable you to work hand in hand with a doctor is by being a dietitian. Their job is to tell a patient what to eat in order to lose weight or simply to promote better eating habits.
Nutritionists also fall under this category. Both individuals must have a bachelorís degree in dietetics, food, and nutrition, or food service management systems. The dietitian may start their own practice and network with doctors; find employment in nursing homes, small hospitals, or in a correctional facility to manage the food service department.
4. When you go for a medical checkup in a clinic or hospital, the person that will do the testing is a laboratory technician. These individuals personally examine your body fluids, tissues, and cells to see if there are any bacteria, parasites, or other microorganisms that pose a danger to the patient.
They use state-of-the-art machines like electronic microscopes, cell counters, and other gadgets making their work less hands-on and more analytical. If you want to pursue a medical career in this field, you must have a bachelorís degree in medical technology. You will report to a clinical technologist or a laboratory manager.
There are other medical careers you can pursue aside from the four mentioned. You should do some research first if this is really something you want to do, go to school and then fulfill that dream. If at some point you want to shift somewhere else like
siemens,
go ahead and do so because there are other things you can do.
You can take on another job still in the medical field like assisting doctors in medical research.